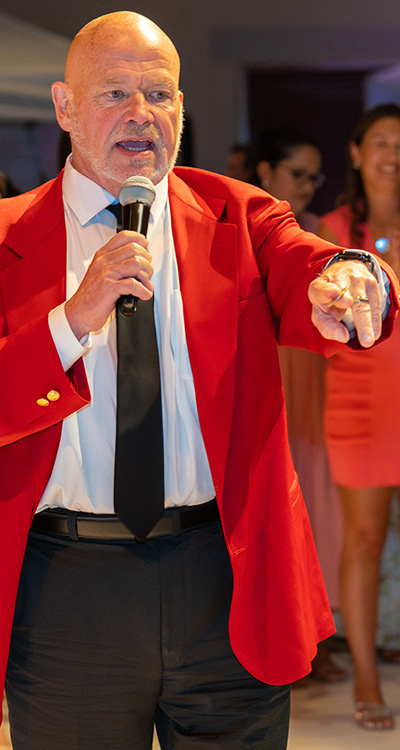 A litte bit about Roger…..
"Roger is a rainmaker in the auctioneering world"
That quote came from a well-established fundraising director, who after hiring Roger, quickly realized his ability to produce an extremely successful auction, and has used him ever since!
Roger brings to the table a myriad of talents that very few auctioneers possess. From his comedic background, his likeability on stage, his ability to engage and entertain his audiences, Roger is a rainmaker in the auctioneering world. An auctioneer that never leaves any money on the table! That's because Roger always knows what his priorities are: a well-organized, entertaining event where guests want to participate and don't feel like they were pushed to participate. That is a truly fine line and only the really experienced auctioneers know how to accomplish it. And because of the multitude of talents that Roger possesses, he is a highly sought-after benefit auctioneer not only in Southern California where he resides but throughout the United States.
Roger credits his tremendous success in the auction world to a lengthy career (35 years and counting) as a TV studio audience warm-up comedian. Roger is one of, literally, only a handful of the television warm-ups that handle 100% all the sitcoms that are filmed in the country. He has worked on hundreds of different sitcoms and his resume lists some of the highest rated television shows in Hollywood history. He is part of the Emmy award winning team for Will & Grace, King Of Queens, 2 Broke Girls, Dancing With The Stars, America's Funniest Videos and most recently That 90's Show and Frasier. Roger can boast that he has done audience warm-up for over 3000 television tapings in his unparalleled television career.
In fact, one of his greatest accolades was the Wall Street Journal featuring him on the cover of their newspaper for his extraordinary warm-up talents. (See Media for the article & accompanying video). An achievement that no other warm-up or auctioneer can claim.
Roger also has been a successful stand-up comedian for most of his adult life and has done stand-up on the Late Late Show and comedy clubs across the U.S. There are very few auctioneers that can bring that kind of expertise and multiple talents to the table. And having that dexterity is extremely important to the success of any charity event.
Roger prides himself in bringing both heart and humor to all his auctions. He has raised millions of dollars for his charity benefits over the years. From non-profits, schools, churches, animal rescues (one that is close to his heart) to any benefit in need. He vigorously provides the expertise to help his clients run a smooth and prosperous event. With his specific and unique skill set, Roger has the "golden touch" for consistent success in raising money for each and every cause. Adept in every way, he is armed with a deep understanding of what it takes for a triumphant fundraiser.
Roger's expertise doesn't just start on the day of the event. It begins long before that. From doing a venue walk-thru early in the planning stages (something that other auctioneers never bother to do), to developing a strategy for the event, skillfully overcoming obstacles by avoiding the pitfalls that can mire down a benefit, by finding innovative ways to present each and every item, to weekly meetings to update and review the planning progress with his clients. And every event requires its own specific needs and timeline. From the large decisions to the minute details, all need to be meticulously examined. And it doesn't end with the event either. Afterwards, he will listen and absorb input from his clients and review with them on what can be improved upon for their next fundraiser. He truly builds deep and long-lasting relationships with his clients and is highly regarded for his consistent reliability.
With over 30 years of auctioneering experience, first starting as a Cruise Director and then transitioning into an art auctioneer on board cruise ships, Roger realized very early on in his career, that the more you can entertain and engage your guests while performing an auction, the more money you will raise.
Roger has elevated that to an art form and knows how to read a room and dial in that sweet spot where not only are all his guests enjoying the event but want to be take part in the excitement as well!
Time after time, his auction guests have said to him they had no plans to participate but because of Roger and his energetic and captivating style, realized just how important the benefit was and found themselves bidding on auction items, something they had never done before in past fundraisers.
This is why nearly all of Roger's clientele come back year after year literally booking him a year in advance so not to lose out on his availability for their next gala event.
Roger's style is like no others. He measures his success by his client's success. His goal is to leave his guests wanting more and not looking at their watches. So many times, guests attend these charity events just counting the minutes so they can leave. Not with Roger's events. Time and time again, people will approach Roger afterwards telling him just how much fun they had and never realized how entertaining the fundraising event could be. In fact, Roger gets much of his work from people seeing him perform at a fundraiser and convincing their own fundraising board that this guy has that special something and they have to get Roger for their next event!